Manufacturing industry has men and women working on its production sites and in its storage depots. For their well-being and efficiency, these people need to have the best possible working conditions.
With this in view, the way the production area is laid out constitutes an issue of importance. For the employees, their working environment must be as pleasant as possible. To achieve productivity and quality, the fitting out of the working area must take into account the functionality of the workstation, ease of access via clear spaces, cleanliness, safety, flexibility, etc.
The organization of the furniture is a major factor in designing an industrial or logistical space to achieve these objectives. Compatibility with machines and equipment must be targeted and coordinated. The principles of lean manufacturing and 5S must be taken into consideration to optimize flows.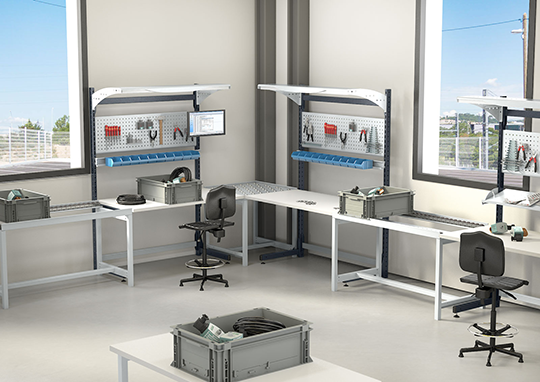 Each job-specific application and the processes involved in the different stages of production are crucial elements in determining layout.
Proper evaluation of all these factors depends partly on SOFAME's long experience of equipping industrial sites in the most diverse sectors of activity, but also on close consultation with the users and production managers for a full understanding and analysis of the specifics needs of the company. It is this combination of experience with attentive listening to the customer that enables the identification of the best adapted arrangements for securing productivity and profitability.
These solutions may be based on models to be found among SOFAME's standard range of products or may require the adaptation of furniture items or even the design of special products created on request and to drawings.
SOFAME's technical sales staff, assisted by technical experts, represent a helpful team skilled at interpreting the needs and at proposing practical solutions.