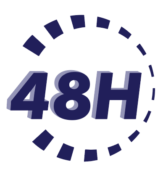 Since 2008, SOFAME has offered its customers a selection of products held in stock and available for despatch within 48 hours from receipt of the order.
SOFAME was the first manufacturer to provide this type of service, and has maintained its lead, remaining the only company to deliver such a wide choice of products at such short notice.
Since the first 48-hour catalogue, which contained 210 products, available only in the Industrial Blue-Light Grey colour combination (RAL5015-RAL7035), the range has been considerably enlarged, so that on 1 January 2017, it had risen from 239 to 859 references, all available in two finishes: Industrial Blue-Light Grey (RAL5015-RAL7035) and Anthracite Grey-Light Grey (RAL7016-RAL7035), exceeding 1,000 references in stock (1,006 to be precise) from March 2018.
Such an offer makes it possible to equip an entire production workshop in a very short time, since the most frequently purchased products in each product family, in the SOFAME general catalogue feature in the 48-hour catalogue: workbenches and workstations, service trolleys, storage units, computing and meeting furniture, seating.
The 48-hour catalogue is designed to make choosing your products easy. They are presented with their references, names, dimensions, prices and main technical characteristics. Thus, choice and availability are the great advantages of the 48-hour service.
The furniture in the 48-hour catalogue is manufactured identically to that in the general catalogue. It offers the same characteristics, certification, quality labels and guarantees as the furniture in the general catalogue. Thus the 5-year guarantee (excluding coatings and seat adjusting cylinders: 2 years) also applies to the furniture in the 48-hour catalogue.
The products are stored in a 1,500 m2 depot with a storage capacity of 10,000 m3. This is replenished regularly and responsively by the production plant located on the same site.
The success of the 48-hour catalogue, which has been growing for more than 10 years now, and the fact that SOFAME is the only supplier on the market to offer such a facility, shows that this type of service meets the expectations of industrial operators.