Flexible solutions
Workstations designed for the electronics industry have many requirements. Sofame meets those requirements by delivering flexible products so operators can adapt their workstations to their own needs.
The primary criteria for use in the electronics industry is the removal of any electrostatic charge that the assembly components may attract and which can cause harmful electrostatic discharges both to the operator and the components themselves.
The workstation environment must be taken into account and allow for the discharging of electrostatic charges from the workstation to the ground.
The work surface must be antistatic. That is why the finish on our surfaces incorporates carbon which dissipates current. The surface and its frame must be connected, as must everything comprising the workstation, to earthing connections.
The paint on metallic surfaces must also enable electrostatic current to be discharged to the ground.
Sofame's ESD (ElectroStatic Discharge) coating ensures that electrostatic current is discharged.
Examples of use
Electrical industry
Electronics industry
Electromechanics industry
Site automation
Mechatronics
Trades involved
Electrical engineering technician
Power station manager
Electrical engineer
Wiring technician
Electronics and electrical monitor
Electronics and electrical assembler
Coil electrician
Robotics technician
Automation technician
Electrician
Electronics assembly picker
Electrical cabinet wirer
Electrical and electronic inspector/operator
Electrical appliance repairer
Site automation technician
Mechatronics engineer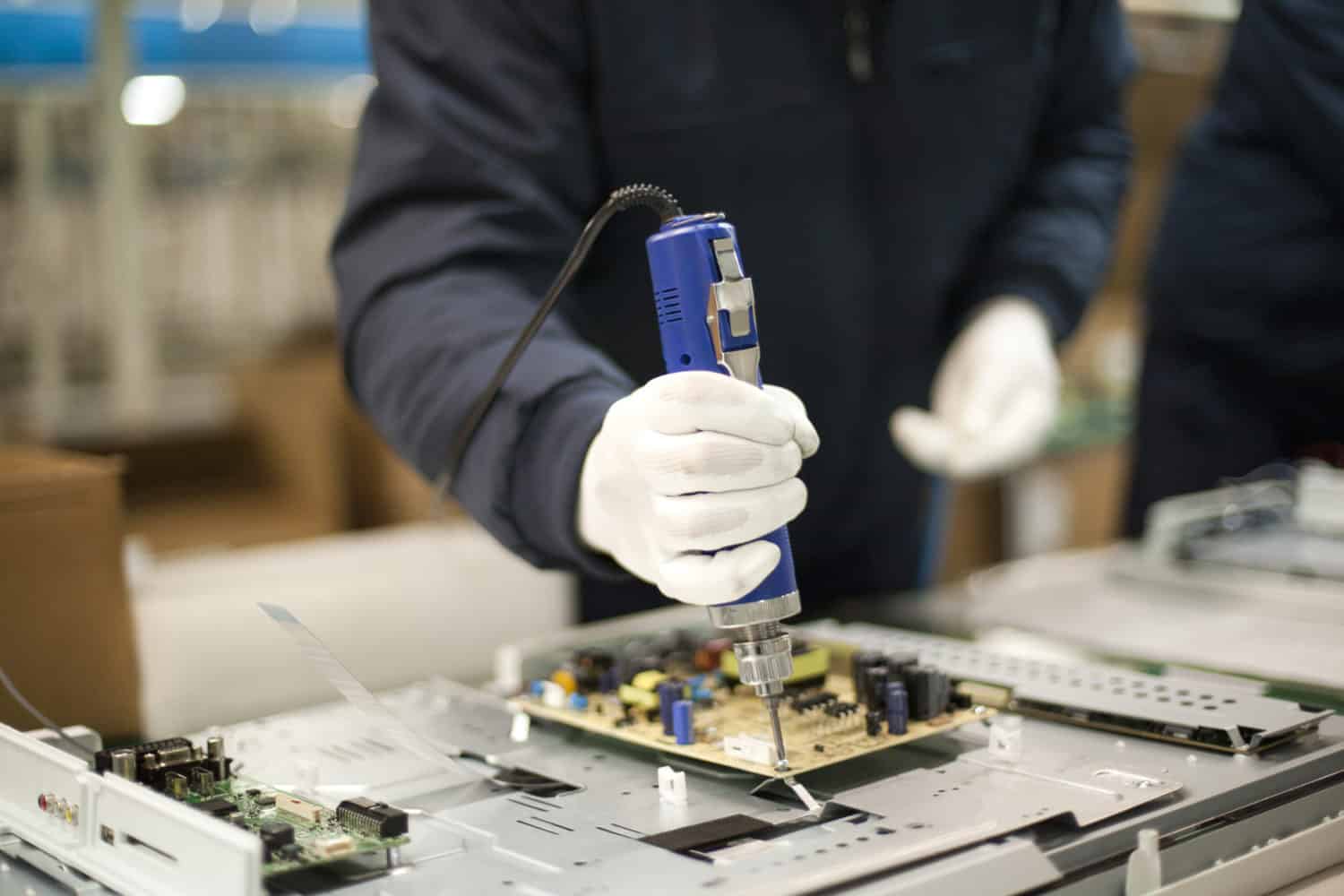 Comprehensive range
In order to meet best ergonomic practices, workstations must enable operators to have the components and tools they need in order to assemble the product within reach. The components may, for instance, be stored in grab containers placed opposite the user or sat on rails along which they can be moved at will. This is the most common set-up. Tools are generally put in standard holders or are specifically installed on perforated panels, or sometimes slide along a rail. All this equipment is supported by the solid superstructure of the workstation chassis, which provides optimal rigidity and ergonomics.
Accessories for holding computer workstations or electronic control stations combined with electrification systems enable a higher quality of work when producing items.
The modular nature of the workstations and accessories offered by Sofame deliver a wide choice of combinations to meet the needs of various electronics trades and offer flexibility when workstations need to be reconfigured.
The mechanical, hydraulic or electric height adjustment of workstations provides employees with ergonomics to suit their morphology and the manufacturing work they need to perform.
Lighting is an essential factor for operators as they need to work under optimal lighting conditions. Depending on the needs of each electronics assembly task, lights need to be adjusted in terms of position, brightness and colour to enable ease of assembly without eye strain.
Today, aesthetics have taken on a growing importance in the electronics industry, where operators are technicians who prefer to work in a tertiary environment rather than in a traditional industrial production setting. That is why the aesthetics of workstations designed for the electronics industry increasingly resemble the style of office furniture.