In addition to its standard furniture and the 48-hour catalogue, SOFAME proposes a service to match its offer even more closely to the needs and constraints of industries in every sector: tailor-made products.
To identify needs and constraints and define the most appropriate specific furniture, SOFAME, thanks to a trained sales team available to visit you all over France and Europe, can help you to study your enquiry directly on site. This is the way to perfectly understand the respective demands and constraints, to take measurements in order to be able to propose the best suitable, ergonomics and durable solution.
The service is backed by an experienced Design Office team which designs throughout the year tailor-made products to meet customers' constraints.
The Design Office team works first on a proposal including a cost estimation to allow both technical and financial approach in the same time.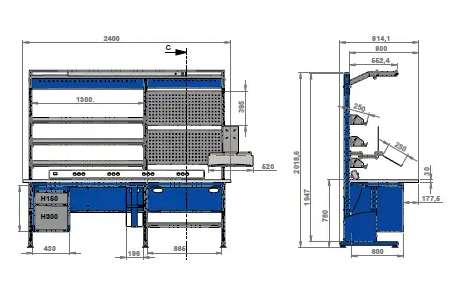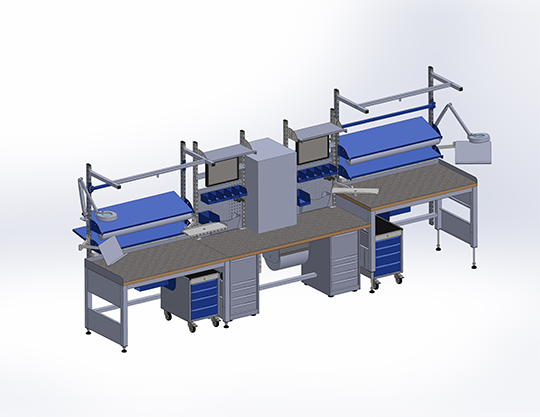 After this initial phase, 2-D and 3-D plans of the item(s) as well as a refined quotation are submitted. After any discussion that may be necessary, once the customer has authorized production, finalized detailed manufacturing drawings can be made.
Production times vary according to the complexity of the project as well as the procurement times of the necessary components. In general, the necessary lead time varies from 6 weeks for a standard product of which one or more dimensions have been modified, to 12 weeks for specially developed products.
To devise solutions adapted to the customer's requirements, the Design Office makes use of a powerful Computer Aided Design (CAD) tool (SOLIDWORKS) and draws on its many years of experience in studying the manufacturing needs of our industrial customers.
These tailor-made products are manufactured to a quality identical to that which has made SOFAME's reputation since its foundation and which is recognized by the most demanding quality labels (NF Technical Furniture, GS, NF Environment, PEFC, etc.). Those products are manufactured in accordance with Standard ISO 9001, for which SOFAME has been certified since 2015.
SOFAME's custom manufacturing integrates smoothly into the company's design and production flows. The considerable share of our business that it represents is a demonstration of its quality and its positive assessment by the industrial customers who have tried it and do not hesitate to consult SOFAME again for this service.